Whole House Air Cleaners Improving Indoor Air Quality in Long Island Homes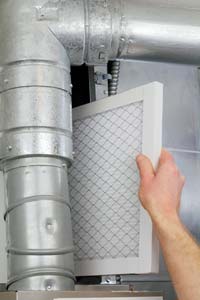 When Long Island residents consider their HVAC system, their primary concerns are most likely about their heating and air conditioning systems. However, the quality of your indoor air can also have an immense impact on the quality of life of your Long Island family. If you have been overlooking your indoor air quality, there is a high likelihood that you can easily make substantial improvements with the help of a professionally licensed HVAC contractor.
At Metro Heating & Air Conditioning, our indoor air quality specialists have many ways to improve the quality of your indoor air. Our HVAC contractors can install a whole house air cleaner to remove pollutants from your Long Island home. We are also especially skilled at repairing and maintaining these whole house air cleaners after installation. These systems are installed directly into your HVAC system, and as such, a whole house air cleaner is the best way to remove indoor air pollutants from your home.
Call Metro Heating & Air Conditioning today if you are interested in installing a whole house air cleaner into your Long Island home. Our knowledgeable and expert staff can provide you with the information you need to make the best choice as to which system will fulfill your family's needs. We would be happy to answer any questions that you may have about our services, and we can schedule your appointment today.
Whole House Air Cleaners Removing Minute Microscopic Pollutants
The technology behind whole house air cleaners has increased by leaps and bounds. As such, these systems can remove the smallest particles that are contaminating the indoor air of your Long Island home. Electronic whole house air cleaners have the technology necessary to remove up to 99% of mold particles, pollens, and allergens. These systems can also remove up to 95% of dust from your home as a whole. Whole house air cleaners are so advanced that they can remove 80% of virus-sized particles from your Long Island home.
Our professional indoor air quality specialists can assess the unique layout of your property and your family's unique needs to determine which system will work best for you. Our team will provide you with the expert advice you need to ensure that your family has the most comfortable and healthiest indoor air quality.
After we install a high quality indoor air cleaner in your Long Island home, your family will have fewer allergies, asthmatic reactions, upper respiratory issues, and pollutant caused discomfort. Our contractors also have the skills to repair and maintain these systems throughout their service lives. We guarantee that you will be completely satisfied with our indoor air quality services.
If you need to hire a professional indoor air quality contractor to install a whole house air cleaner in Long Island, call Metro Heating & Air Conditioning at 631-667-8181, or fill out our Online Request Form.