Baldwin Air Conditioning and Heating Contractors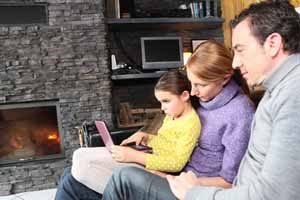 You and your family rely on your HVAC system each and every day. Your air conditioner and heater provides your family with the comfort that they have come to expect and deserve while within the home. Your HVAC system plays a large role in determining the quality of your indoor air. As such, this system is critical to the health of you and your Baldwin family.
At Metro Heating & Air Conditioning, our Baldwin heating contractors have been helping local families improve the quality of their heating and air conditioning systems for over 20 years. We are professionally trained, highly skilled, and extensively experienced. We will make your satisfaction our first priority.
Call us today if you are in need of high quality HVAC services in Baldwin. Our professional staff will be happy to explain our wide range of services and all of their resulting benefits. We can answer any questions that you have and schedule your appointment today. We guarantee that you and your family will be completely satisfied with our expertly performed services for years to come.
Baldwin Heating Installations
At Metro Heating & Air Conditioning, we strive to provide Baldwin residents and property owners with the most customized heating systems possible. Depending on the layout of your property and your unique heating needs, we can install a number of high quality heating systems customized to your needs. We are expertly skilled at installing furnaces, boilers, radiant heating systems, and geothermal heat pumps.
Baldwin Air Conditioning Installations
Just as with our heating installation services, our main focus in our air conditioning installation services is to fulfill all of your cool comfort needs. Our air conditioning contractors are highly skilled with both central AC units and ductless air conditioning systems. During of AC installation services, we can provide you with the information you need to make the best choice for your Baldwin family. Our advice includes information about energy efficiency, reliability, cooling capacity, and more.
Heating and Air Conditioning Service Agreements
After we install your air conditioning or heating system in your Baldwin home, you can enter into a service agreement with our repair contractors. With these service agreements, you get repairs and routine maintenance services for the life of your new heating or air conditioning equipment. Once a year, we will come to tune-up your system to ensure that it functions are reliably and efficiently as possible. With our routine air conditioning and heating maintenance, you can rest assured knowing that your family is comfortable all year round and that your system will not break down prematurely.
If you need to hire a professional heating or air conditioning contractor in Baldwin, call Metro Heating & Air Conditioning at 631-667-8181, or fill out our Online Request Form.