Long Island Indoor Air Quality Contractors Installing and Repairing Whole House Humidifiers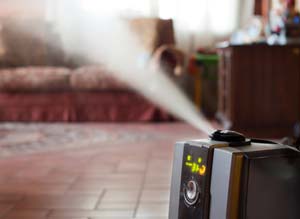 Long Island residents spend up to 90% of their time indoors. For this reason, everyone understands that their family needs to have a fully functional air conditioner and heater in order to remain comfortable all year long. Unfortunately, many people forget to consider the importance of maintaining the quality of their indoor air. Because we spend so much time indoors, our Long Island families' quality of life is determined in large part by our indoor air quality.
At Metro Heating & Air Conditioning, our air conditiong contractors understand the importance of maintaining and improving the quality of our indoor air quality. We have many solutions that can improve the quality of your indoor air by making it more comfortable and more beneficial to your family's health.
One often overlooked aspect of indoor air quality is relative humidity. If the air within your home is relatively dry compared to outdoor air, your family could be suffering unnecessary discomfort and negative health effects. Our indoor air quality specialists can install a whole house humidifier in your home to eliminate all of the problems that can be caused by relatively dry indoor air.
Call Metro Heating & Air Conditioning today to learn about whole house humidifiers and all of their benefits. Our courteous and polite staff would be happy to answer any questions you may have about these amazing systems. We can provide you with further information as to how whole house humidifiers can improve your Long Island family's quality of life. Our staff can schedule your appointment today.
Many Benefits Humidifiers Provide Long Island Residents
Bad relative humidity and dry air can cause both health problems and property damage in Long Island. These resultant health problems will substantially detract from your family's comfort within your home. Our Long Island HVAC contractors can install whole house humidifiers in your home to remove all of these negative problems.
Many air quality specialists including the American Society of Otolaryngology state that dry air increases the chances of people contracting upper respiratory infections. As such, low humidity can cause your family to be more susceptible to colds, the flu, bronchitis, and many other respiratory ailments. In addition to causing infectious conditions, dry air exacerbates the conditions that negatively affect asthma and allergies.
Whole house humidifiers also prevent many uncomfortable symptoms of relative low humidity air. Installing a whole house humidifier in your Long Island home can prevent bloody noses, itchy cracked skin, dry mouths, dry and itchy eyes, static shocks, and sore throats. Whole house humidifiers also prevent static shocks from damaging electronic equipment and dry air from causing carpentry fixtures to crack and degrade.
If you need to hire a professional indoor air quality contractor to install a whole house humidifier in Long Island, call Metro Heating & Air Conditioning at 631-667-8181, or fill out our Online Request Form.