Heating & AC Contractors Providing Amazing Service Agreements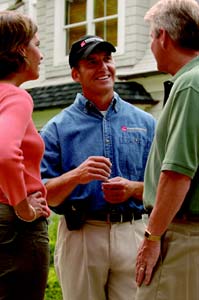 Whenever you install a new heating and air conditioning system in your Long Island home, it is important to make certain that you maximize all of the benefits that that system has to offer. At Metro Heating & Air Conditioning, our Long Island heating and air conditioning contractors strive to provide local residents with central air conditioning, ductless air conditioning, boilers, furnaces, and radiant heating systems that provide reliable and efficient comfort for the longest timeframe possible.
At Metro Heating & Air Conditioning, our heating and air conditioning contractors have the capability of servicing your residential or commercial heating and air system from installation to replacement. We offer extremely economical service plans for all various heating and air systems. By having a service plan with us, you can always rest assured knowing that your system is in proper hands. Our service plans ensure that your system is always properly maintained. At the same time, if any major problem develops, our repair team will respond quickly to restore comfort to your home.
Call us today if you are interested in entering into a service plan for your air conditioning or heating system. Our professional contractors are always happy to explain the many benefits of our service plans. You will always know that you have air conditioning and heating contractors on call ready to help you with all of your needs. We can schedule your appointment today.
Heating & AC Repairs For the Life of Your Long Island Heater
If you enter into a service plan after our expert installation, you will never have to worry about hiring a heating or air conditioning contractor ever again. Our professionals will always be on call to repair any issue that occurs with your Long Island system. At Metro Heating & Air Conditioning, we offer service agreements for central air conditioners, ductless air conditioners, boilers, furnaces, and radiant heating systems. No matter what your heatingand cooling needs, our service plans ensure that they are always fulfilled.
Routine Maintenance and Tune-Ups for your Long Island Heater
A unique feature of our service agreements is the routine tune-ups, inspections, and maintenance services that we provide. Because your residential boiler or furnace is a complex system, it is important that you take the proper steps to ensure that these systems are in proper condition. When you enter into a heating service plan with our professionals, you never have to worry about heating maintenance again.
During our routine inspection and tune-up services, our heating contractors provide you with many benefits. Routine maintenance ensures that your heater is operating at peak performance. This results in maximum comfort and energy efficiency. In addition, our maintenance services prevent substantial damage to your heater and extend its service life. In sum, our heating service agreements pay for themselves multiple times over.
If you would like a service agreement with a professional air conditioning and heating contractor for your heating or cooling system in Long Island, call Metro Heating & Air Conditioning at 631-667-8181, or fill out our Online Request Form.