About Your Trusted Long Island Air Conditioning and Heating Contractors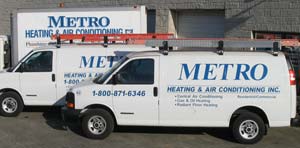 Since 1991, Metro Heating & Air Conditioning has had one goal: to provide the highest quality HVAC services to Long Island residents and property owners. We are a full service HVAC contractor that provides for all of your air conditioning, heating, and indoor air quality needs. Our team strives to be as versatile as possible, providing unique and cutting edge solutions to all of your heating, cooling, and air quality needs.
When Long Island residents hire our team, they can rest assure knowing that their heating and air conditioning systems are in the right hangs. Metro Heating & Air Conditioning is fully licensed and insured. Our Long Island contractors understand the importance of your HVAC system. You and your family rely on it for comfort, security, and a high quality of life.
Our team is honored by the fact that Long Island residents have trusted us with this critical system for so long. In every heating and air conditioning project we undertake, we strive to honor that trust by putting our best effort forward. In this way, we can guarantee that you have the most reliable, highly functional, and energy efficient heating and air conditioning systems possible. We guarantee that you and your family will be completely satisfied with our expertly performed services.
Call us today for any of your heating, air condition, or indoor air quality needs. Our courteous and polite staff would be happy to answer any questions that you may have about your property or our expertly performed services. We can schedule your appointment today.
Highly Versatile and Advanced HVAC Services in Long Island
At Metro Heating & Air Conditioning, our experts handle your heating, air conditioning, and indoor air quality needs in the most versatile and advanced fashions. For air conditioning, our contractors have the skills necessary to service your AC at all stages of its service life, from installation to replacement. We provide service agreements so that you can always feel confident that your AC is operating at peak performance
For our heating services, our contractors have the ability to work with every type of heating system. We are adept at installing, maintaining, repairing, and replacing furnaces, boilers, and radiant heating systems. As with our AC services, we offer heating service agreements so that you can rest assured knowing that experienced contractors are always on call to handle all of your heating needs in Long Island.
Our professional contractors provide Long Island residents with some of the most advanced and unique HVAC services. We have the skill to enhance the energy efficiency of your home by installing geothermal heat pumps that can provide for all of your heating and air conditioning needs. In addition, we can improve this energy efficiency even more by installing a energy recovery ventilator in your Long Island home.
Finally, our Long Island heating contractors have the solutions to vastly improve the quality of the air your family breathes while in your home. We install and repair whole house air filters and humidifiers. We can also expertly install HEPA filters into your HVAC system. Any and all of these systems can vastly improve your Long Island family's quality of life.
If you need to hire a professional air conditioning contractor or heating contractor in Long Island, call Metro Heating & Air Conditioning at 631-667-8181, or fill out our Online Request Form.