Long Island Specialists Installing and Repairing Water Heaters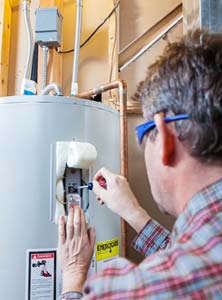 At Metro Heating & Air Conditioning, our Long Island heating contractors install and repair water heaters from all manufacturers. Most water heaters are usually a round tank with a heat source that heats water from the bottom of the tank and also maintains and stores the heated water until it is used. Most water heaters have a 40 to 50 gallon glass-lined steel tank. The fuel types used to power the heat source can be either gas (natural or propane), or electricity. The life expectancy of the average water heater is 8 to 12 years.
Traditional water heaters are extremely reliable and economical. These systems have been the industry standard for residential properties for an extended period of time. Depending on your Long Island family's needs, a new tankless water heater might be a better choice. Our water heater experts can help you decide which type of system best works for you.
Call Metro Heating & Air Conditioning today if you are in need of water heater related services. Our courteous and polite staff would be happy to answer any questions that you may have about either traditional water heating systems or tankless water heaters. We can schedule your appointment today.
Long Island Water Heater Installations and Replacements
At Metro Heating & Air Conditioning, we install both traditional and tankless water heaters in Long Island homes. We have the ability to work with you in both renovation projects and new construction projects. In all of our water heater installation projects, our team works with you in order to provide the most customized services possible.
Our water heater team assesses the layout of your property and your family's water usage needs. We then provide you with expert advice as to how a traditional or tankless water heater will serve you. With our help, you can feel confident that you made the best water heater choice for you and your Long Island family.
Long Island Water Heater Tune-Ups and Repair
Because your water heater is a complex system, it will eventually need routine maintenance and repair. At Metro Heating & Air Conditioning, our Long Island heating specialists have the skill to troubleshoot these systems to determine if anything is amiss. We can easily identify minor inefficiencies as well as major malfunctions with your water heater. We can repair any and all issues to guarantee that you have the most efficient, reliable, and functional water heater possible.
Our Long Island heating contractors can repair problems with both tank and tankless water heaters. In each instance, we guarantee that you and your family will have the warmth and comfort that you deserve. By properly maintaining you Long Island water heater, you do not need to worry about the system breaking down and your family going without warm water.
If you need to hire a professional heating contractor in Long Island, call Metro Heating & Air Conditioning at 631-667-8181, or fill out our Online Request Form.