Long Island Gas Piping Professional Service Providers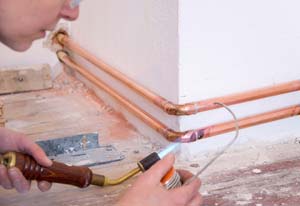 Natural gas or propane provides Long Island area residents with an enormous amount of wonderful benefits. Natural gas and propane can be used to bring warmth and comfort into you Long Island home. They can also be used to enhance the cooking and gathering experiences. High quality and expertly installed and maintained gas piping is essential to delivering these unique advantages.
Whenever you are conducting any work involving das piping, it is absolutely essential to place safety as the primary concern. In order to ensure that you have the safest and most efficient gas pipes, you should always trust an experienced contractor with the job.
At Metro Heating & Air Conditioning, our Long Island heating experts are highly experienced when it comes to working with gas piping, gas heating systems, and gas fueled appliances. Our team is professionally trained and licensed and fully insured. As such, you can rest assured knowing that your gas piping provides the most enjoyable benefits in the safest fashion possible.
Call us today if you have any gas piping related needs. We are always happy to discuss any prospective home improvement project that augments a gas piping system. Our courteous staff would be excited to explain how our heating contractors can help. We would gladly answer any questions that you may have, and we can schedule your appointment today.
New Construction and Remodeling Gas Piping Installations
If you are conducting a remodeling project or a new construction in Long Island, you should take the opportunity to install gas piping in your home. Whenever you are making major changes to your living spaces, your goal should be to enhance the enjoyment, comfort, and convenience that your family enjoys within you Long Island home.
At Metro Heating & Air Conditioning, our gas pipe installation team can expertly help you with these goals. We can install gas piping to fulfill all of your warming and gas related needs. Our highly skilled and knowledgeable professionals can customize your gas piping to all of your unique needs and appliances. We guarantee that your family will immensely and safely enjoy all of the resulting benefits.
Gas Piping Inspections and Repair
It is beyond obvious that natural gas and propane must be treated with respect in order to ensure the safe enjoyment of the comforts and convenience they provide. At Metro Heating & Air Conditioning, our gas piping team can inspect your gas piping system to ensure you that there are no safety or efficiency issues. During these inspections, our contractors will also conduct any necessary repairs. After we conduct our gas piping inspection and repair services, you can rest assured knowing that your Long Island gas system is as safe and reliable as possible.
If you need to hire a professional heating contractor providing gas piping installation and repair services in Long Island, call Metro Heating & Air Conditioning at 631-667-8181, or fill out our Online Request Form.