Long Island Boiler Installations, Repairs, and Replacements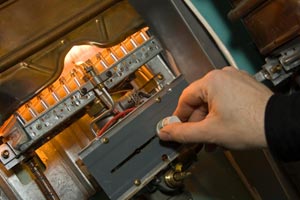 For over twenty years, Metro Heating & Air Conditioning has been servicing all boiler related needs in the Long Island area. Our Long Island heating contractors are highly experienced and knowledgeable. They have the skills necessary to install highly customized heating systems that can ensure that your family is comfortable all winter long.
At Metro Heating & Air Conditioning, our Long Island heating contractors believe that every local family deserves to have the most reliable, customized, and efficient heating system in their homes. We understand the importance of these systems in promoting your family's quality of life. As such, we are honored by the fact that local residents and business owners have trusted us for so long for all of their boiler related needs. In each instance, we guarantee that we will work our hardest to honor that trust. In this way, you can feel confident that you receive the highest quality service possible.
Call Metro Heating & Air Conditioning today if you have any boiler related needs. Our courteous and polite staff is always happy to answer any questions that you may have about your property or our expertly performed services.
Boiler Services Handled By Long Island Experts
Since 1991, our professional heating contractors have been providing the highest quality boiler services to Long Island residents and business owners. With over two decades of experience, we have seen just about every problem that can result in boiler systems. As such, our boiler expertise is unsurpassed in the local area.
Our heating contractors have the ability to install boiler systems in an expert fashion in order to avoid all the common problems that result from inexact installation methods. We also have the knowledge necessary to install custom designed boiler systems that can fulfill all of your heating needs. We install boiler systems in both new construction projects and existing homes.
Our professional heating contractors also have the ability to troubleshoot your complex boiler system to determine exactly what problem may be affecting its performance. By expertly identifying the specific problem with your boiler, we have the capability to use precise repair techniques. In this way, we ensure that your Long Island boiler is functioning safely, efficiently, and reliably after our repair services.
Boiler Services Focused on Quality
At Metro Heating & Air Conditioning, our main objective is to always maximize customer satisfaction. We understand that what you are looking for is services of the highest quality. As such, in all of our boiler installations, repairs, and maintenance services, our professional heating contractors are striving to provide the best solutions to all of your heating needs. With our paramount focus on quality boiler services, we can guarantee that you and your family will be completely satisfied.
If you need to hire a professional heating contractor to provide boiler related services in Long Island, call Metro Heating & Air Conditioning at 631-667-8181, or fill out our online request form.